Coming October 2023: OneCare Practice Management Software
All-in-one fully web-based practice management suite with documentation, two-way patient communication, clearing house, and more!
Call for a demo!
 
(919) 341-9267
SOAP NOTES EHR FOR CHIROPRACTORS
Practice Management Software
Fully customizable EHR Software for medical billing and health record maintenance, specifically designed for Chiropractors and other medical practices with fewer than 10 primaries.
Best Customer Support
Fully Customizable
Join 1,000+ providers that now spend more time with their patients and less time with the paperwork!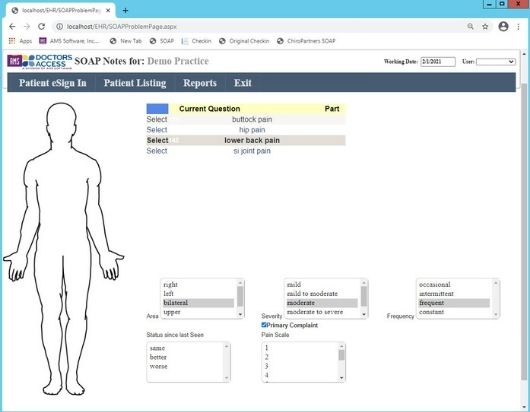 Save 10 Minutes
Per Appointment!
Join over 1,000 of your peers in nearly every state and make the switch to AMS Software / Doctors Access TODAY.
Our software can replace:
Your Old Paper Scheduling Book
Complex Excel Spreadsheets
Paper Record Keeping
Even a Professional Biller
Our software integrates with:
A Long List or EMR Related Softwares
Lab Partners
Prescription Partners
It also allows for complete customization with help from our in-house programmers.
Demo Our Software For Free!
EHR Software Customized To Your Practice's Needs
🔴 Startup
🟡 Solo
🟣 Providers +
🔵 Professional
🔴
Startup
🟡
Solo
🟣
Providers +
🔵
Professional
| Feature | 🔴 | 🟡 | 🟣 | 🔵 |
| --- | --- | --- | --- | --- |
| Practice Management | ✅ | ✅ | ✅ | ✅ |
| Claim Creation | ✅ | ✅ | ✅ | ✅ |
| Clearing House | ✅ | ✅ | ✅ | ✅ |
| Reminders | ❌ | ✅ | ✅ | ✅ |
| Office Automation | ❌ | ❌ | ✅ | ✅ |
| SOAP Notes + EHR | ❌ | ❌ | ❌ | ✅ |
30+ Years of Programming EHR Software
AMS Software offers 30+ years of tried and true software solutions for medical practices to efficiently and profitably manage their practices.
Working closely with our clients over the past years has allowed us to address so many specific issues you may currently be facing with our competitors' "software in a box" offers.
Don't limit your practice. Stop wasting time today.
Contact our sales and support team to get all of your specific questions and concerns addressed. We'll also want to do a 1:1 screen share onboarding to get you up and running with our software fast!
Faster Visits Means More Visits
Our clients have trusted us to make a system that can keep up with their busy offices. No one wants to sit in a waiting room when they are in pain.
Studies have shown that 30% of patients facing long wait times will leave before ever seeing a provider, and a further 20% will change providers altogether.
Within 3 minutes of their arrival, patients have checked themselves in and completed their pre-visit survey.
Within 25 seconds of seeing the patient, your soap notes are done and are in your words.
Within 1 minute of their adjustment, your patient is checked out and you're ready to see your next patient!.


Doctors Access software has operated beyond my expectations. Customizing our software to fit the way we practice was so simple. I really like being able to just glance at the screen and know why my patients are coming to see me.
In respect to claim processing, my cash flow has impressively increased, and we never have any more lost batches. Thank you.
Dr. Cory Shapiro, DC
Hendersonville, TN
1 Program to run your Whole Practice

Your
Notes

, In Your Words!

Our cutting-edge SOAP Notes and EHR system allows you to define not only what your notes say but how you say them. In our 30 years of making quality software for chiropractors, we have found that no 2 providers use the same language.
Complete Management From Visits To
Claims
Our practice management software will let you keep tabs on every aspect of your business. It will help handle everything from automatically generating your patient visits to posting your payments.
Quick & Easy
Statements
Reduce your accounts receivable with our professional patient statements. Our statements are professionally printed and in your patient's hands within 2 days.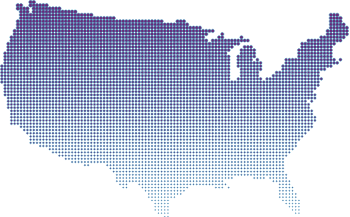 30 Years Of Continual Improvement
Let us empower you to take charge of your office. We've worked with clinics with 1 provider and clinics with 20 providers, and helped clinics from Miami, FL to Kenai, AK.
Spend more time with your patients and less time with paperwork. You may have seen us in Dynamic Chiropractic Magazine!
SOAP Notes / EHR
Our SOAP Notes program was designed by our veteran programmers and dedicated providers. Designed for ease of use, you create soap notes using your words.
1 Tool To Run Your Practice
Keep your office running quickly and efficiently. Our automatic claims handling means your front desk spends less time on claims and more time with patients.
Appointment Reminders
Never have a missed visit again with our automatic appointment reminders via text message and email. Our reminders have over a 95% success rate.